Angie Hartley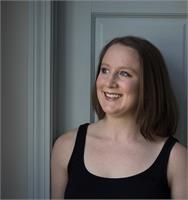 Angie Hartley is a yogi, dancer, choreographer and teacher. She completed her 200-hour yoga teacher training at the Kripalu School of Yoga in 2015. Angie is is fifth grade teacher in Cranston public schools where she sculpts young minds. She is thrilled to share embodied awareness with movers of all abilities and backgrounds.
Angie Hartley instructs the following:



Yoga Sculpt classes are a total body workout, set to energizing music and designed to tone and sculpt every major muscle group. This class complements your regular yoga practice while boosting your metabolism and bringing your strength and flexibility to new heights. Free weights are added into the yoga sequence, creating resistance and intensifying each pose. Strength-training exercises such as squats, lunges, bicep and tricep curls are incorporated to build lean muscle mass. You will see visible results in your body.

PLEASE COME TO CLASS PREPARED TO SWEAT. WE RECOMMEND THAT YOU BRING A BOTTLE OF WATER TO KEEP YOU HYDRATED DURING AND AFTER CLASS. IT IS IMPORTANT THAT YOU COME TO CLASS HYDRATED AS WELL.