Lauren Tracey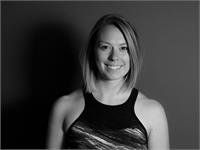 TEACHER
Lauren has been practicing yoga since college where she was able to take
classes to balance the stress of coursework. After college, Lauren found
the power of yoga helped to adjust her into a strong woman in the workforce
and decided she wanted to help other individuals find their inner power
both mentally and physically through the practice of yoga. She is
certified as a 200hr Yoga Alliance Registered Yoga Teacher with a focus on power vinyasa flow with highlights from Forrest, Baptiste, Hatha and
Iyengar. Lauren believes the best form of yoga to practice is one that
speaks to your soul and makes you come back week after week to refuel.
Lauren Tracey instructs the following:
Baptiste Vinyasa is a challenging and flowing form of yoga that heals, detoxifies and electrifies body and mind at their deepest levels. This class is suitable for students of all levels. With temperatures in the studio hovering in the mid 90′s, Baptiste Yoga™ offers a true immersion into your physical and mental self. The unique blend of yoga traditions and philosophies emphasize the flow of breath while moving with strength and grace from pose to pose, all in a heated environment. Modern yogi and founder, Baron Baptiste, stresses the principle of adaptation. Both aspiring and advanced yogis, young and old, can modify each posture and create their own individual experience. The result is a yoga practice that rinses and detoxifies the mind and body, while building strength and flexibility on and off the mat. Students of all levels come to Baptiste Yoga classes to reset, refresh and realize their true potential on and off the mat. We invite you to come and experience the magic and power of transformation that awaits! Together we're up to something BIG! This is an energizing, challenging and powerful class that provides a thorough experience of Baptiste Yoga™ highlighting asana, meditation and inquiry. Expect to move, sweat, breathe, and leave transformed!