Steve Ferrara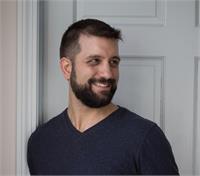 Steve began practicing yoga in 2011 in an effort to find a new approach to personal fitness. The practice of yoga evolved into a daily part of his life. He feels as though the mental and spiritual benefits quickly began to overshadow the physical benefits. Through the practice, he developed a calmer, more compassionate self in addition to achieving a new level of physical fitness. This led to his decision to participate in a 200hr Yoga Teacher Training with Theresa Murphy. He began teaching shortly after completing the program in 2014. Steve continues to seek out avenues to grow his personal practice and teaching style. His classes typically involve smooth, strong movements and focused attention to alignment and breath, allowing for his students to feel and explore into each posture.
Steve Ferrara instructs the following:
A fun and uplifting 90 minute Vinyasa class. This class is designed to energize, detoxify and restore your body and mind. The room is heated to 90-92 degrees with 40-50% humidity.




A strong Hatha Vinyasa class emphasizing the work of advanced postures, including arm balances and inversions. This class will begin with a 5 minute seated meditation for focus and clarity. Followed by detailed instruction in and around preparatory Asana and some flow, this practice will often culminate in a "peak" posture. Expect sophisticated sequencing, direct instruction and nurturing support as you advance your practice.




Slow Flow is a steady vinyasa performed at a slow, strong pace in a heated room. The goal is not to achieve a specific amount of postures within a set time, instead we work on being present with our breath through slow movements and postures that are grounding, build muscular endurance and create stability and focus. You will move through a different series of postures each time you attend, with a long relaxation period at the end of class. The room is heated to approximately 90 degrees with some humidity. This class is accessible to all levels.




Join us for our very popular FREE! All Levels Vinyasa. Class is suitable to people of all levels. Room will be heated to 90-93 degrees with 40% humidity.




Vinyasa is a popular style of yoga that seamlessly links breath with movement. It is often referred to as 'flow yoga' or 'meditation in motion' because of the smooth way in which the poses transition from one to another, almost like a dance. Heated Power Vinyasa takes the traditional vinyasa series and incorporates a dynamic flow that detoxifies, heals and rejuvenates the body. It is a powerful, and transformational class that cultivates strength, endurance, focus, balance, and flexibility.
Instruction is based on alignment and breath. The teacher will offer challenges and refinements to more advanced students while providing structure and support for beginners. In a vinyasa class, your breath is synchronized with your movement and you will be cued to move from one pose to another on either an inhale or an exhale. Students have the opportunity to cultivate gratitude and independence in their yoga practice, while learning to integrate these tools into daily life.