Juliet Loranger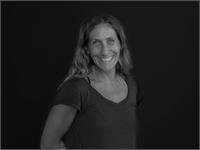 Recently someone asked me the question, "Why do you teach Yoga?". The response fell effortlessly from my mouth, "I teach Yoga because I practice Yoga. Also because it is a transformative process and I believe everyone should somehow keep connected with the process of transformation." I have always engaged with the hails and fails of being a modern day rock-n-roll woman. Rock-n-roll is in my blood, and now, fortunately, so is Yoga. My personal practice of Yoga is to establish a textural relationship with self inquiry, to nurture the components that lie in the traditions and philosophies of Yoga, On the daily, Yoga helps me stand in my truth as I rock out. My teachings and classes are always to invite students to a place where they rejoice in what is, to educate students about the fortifying qualities of alignment in postures combined with fluency of their breath, to share with them in the discipline that's freely required to transform and to be curious to the teachings of Yoga.
200 hour certified Kripalu Yoga Instructor & 800 hour certified with Noah Mazé and is currently involved in an in-depth training with Noah to be a certified YogaMazé instructor. Juliet has been teaching for over 9 years.
Juliet Loranger is currently not instructing any classes.