Amanda Eckhardt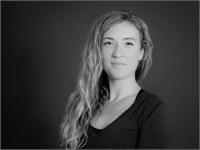 Amanda is an artist at heart. Having studied Fine Art and Photography during college, this sensitivity is at the core of everything she does. Her receptivity to beauty and form naturally provides an element that informs her teaching. Amanda has been a student of yoga for many years, but her journey as a teacher began with the completion of her 200-hr Yoga Teacher Training with Eoin Finn. The style of yoga she offers is an alignment focused and breath based form of vinyasa that encourages students to slow down and connect to themselves. Her greatest hope is that each student may rediscover the beauty in their own lives and through this cultivate a stronger connection to their truest self.
Amanda Eckhardt instructs the following:
Vinyasa is a popular style of yoga that seamlessly links breath with movement. It is often referred to as 'flow yoga' or 'meditation in motion' because of the smooth way in which the poses transition from one to another, almost like a dance. Heated Power Vinyasa takes the traditional vinyasa series and incorporates a dynamic flow that detoxifies, heals and rejuvenates the body. It is a powerful, and transformational class that cultivates strength, endurance, focus, balance, and flexibility.

Instruction is based on alignment and breath. The teacher will offer challenges and refinements to more advanced students while providing structure and support for beginners. In a vinyasa class, your breath is synchronized with your movement and you will be cued to move from one pose to another on either an inhale or an exhale. Students have the opportunity to cultivate gratitude and independence in their yoga practice, while learning to integrate these tools into daily life.

Suited to students of all levels, classes are heated to 95 degrees with approximately 50% humidity to help facilitate the integration of sweat, strength and spirit.




Between meetings and conference calls, take some time for yourself! Lunchtime Yoga is the perfect mid-day yoga "snack". You'll return to your day feeling refreshed and centered. Students are taken through a flow of breath and movement that will be sure to pick you up and send you back to your afternoon with a new view.

Our Lunchtime Yoga is a 45 minute vinyasa style class offered at the affordable rate of $5. Lunchtime Yoga classes are often taught by newer staff members or teachers who recently completed a yoga teacher training, and styles may vary.

This is a 45 minute class that begins promptly at 12:15pm and ends at 1:00pm. The room is not heated and humidity is low. It is a great class for students of all levels.